SEO made easier with AI
Take your SEO to the next level with the data and insights you gain from our AI SEO Recommendation Engine.Get the inside beat on the changes the engines make to their algorithms every day. With 1AISEO, you'll be able to stay ahead of the game with daily strategies to rank for all your target keywords.
AI Offers a More Effective SEO Strategy
You've likely looked at other services that offer you keyword research or suggestions, but our system is different! Why? Because we use Artificial Intelligence to crunch millions of data points every day. Our Machine-Learning algorithms give you information that humans and classic algorithms could never give you.
Every day that you login to our site, you'll see a list of AI-based SEO Recommendations for your keywords. And, since the engines adjust their algorithms all the time, our models are constantly training, which means that you get up-to-date Recommendations as the data changes!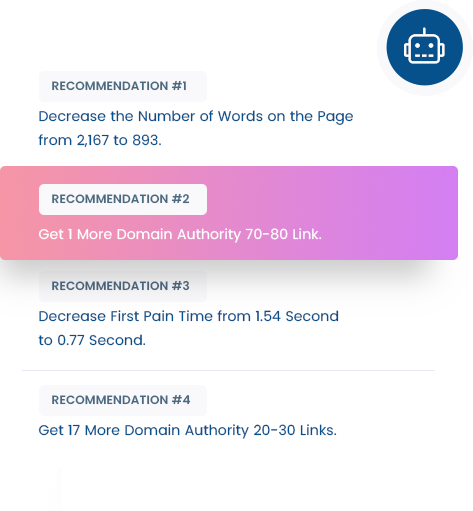 Input Keywords and Get SEO Tips Specific to Your Website
Our AI Recommendation Engine analyzes your website's rankings for specific keyword + URL combinations. Then we give you specific, actionable recommendations for you to rank better. We don't believe in cookie cutter marketing. Instead, our AI uses the cold hard data it gains from you and your competitors' sites to give you the upper hand.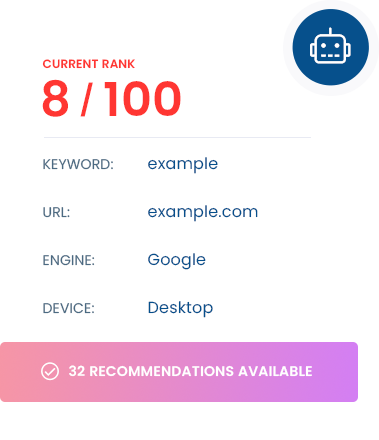 What We Do
Our AI looks at the top 100 search results (for each keyword) to see which websites are ranking and why. We literally crawl every URL and grab hundreds of important metrics about each one in order to feed our data-hungry Machine Learning Models. We then leverage these algorithms to give you the information you need to beat your competition.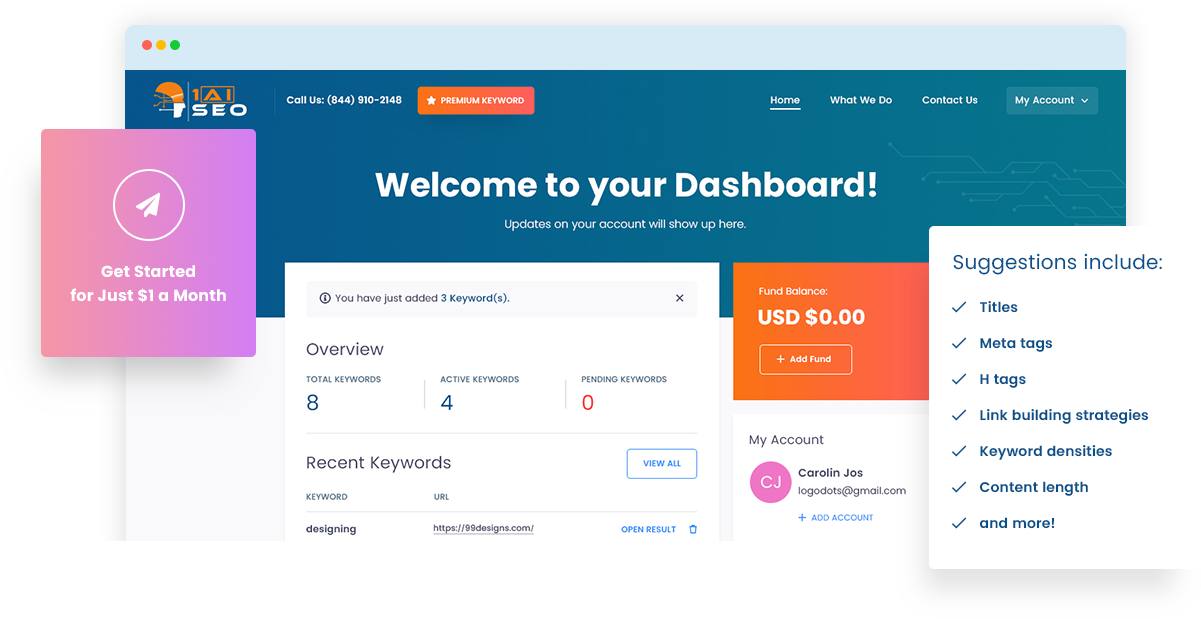 It's simple to get started and it's

only $1 per keyword ranking. All you have to do is:
Sign up for an account Choose a keyword Select where you want to rank (Google, Bing, Mobile, Desktop, etc.)
Get daily SEO tips based off of that day's algorithms
Stop Relying on a Human to Do an AI's Job!
If you're still relying on human intellect to figure out what you need to do to increase your rankings, then it's time to make a change. Our AI will help you become your own SEO expert. Sign-up now to...
As Seen On